**********
Port Gamble October 2009 investigation
Mikes 4 Star BBQ in Port Gamble
Port Gamble Camera Only Investigation 2010
Our investigation began at approximately 7:30 pm on May 15, 2010 and concluded at approximately 7:00 am on May 16, 2010. The OPPS Investigation team consisted of 8 people.
The team set up 8 night vision cameras in the following locations: CIC, Berthing on deck 2 where mirror is that 2 females saw an apparition of a sailor, Fox Berthing, Refer Room, Ward Room, Steam/Engine Room and the Mess Hall. One night vision hand held camcorder was placed in Gun Mount 53. The team also used digital still cameras, a full spectrum digital camera, handheld night vision camcorders, digital audio recorders, and EMF (Electro Magnetic Field) detectors. We split into 3 investigation teams throughout the ship. At the beginning of the investigation the weather was partly cloudy, 50 degrees Fahrenheit with a moon phase of Waxing Crescent 3.07% Illuminated.
In total, we had approximately 104 hours of audio, over 3500 photos and approximately 80 hours of audio to review from this investigation. This is the best that we were able to provide.
This video shows a personnel experience while in the refrigerator on the USS Turner Joy. The story is told that those who perish while aboard the ship are stored in the Refrigerator. By all accounts, the only personnel to perish while on board the Turner Joy were never stored here. However, the activity in this location shows that may not be the case. Watch Scott, the Tech Manager, as he jumps twice. Also in this video is the time frame when a photo was taken, shown below. Nobody walked in front of the camera when this was taken. Scott is over 6 feet tall, as you can tell by this photo this person is quite big. Nobody down there at the time fits this description other than Scott himself. We cannot explain it but unsure about who this is. Picture was taken with a full spectrum camera. To hear the sound that makes Scott Jump look down below or click this link.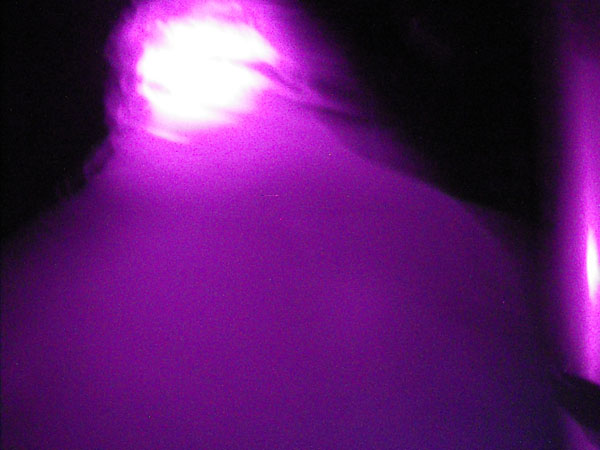 Pay close attention to the left side of the post inside the Refer. It appears to be some misty shape moving from right to left past the pole and disappearing into the Refer. We have all left the refer and gone to other parts of the ship when this occurred.
AUDIO EVIDENCE
These are the top 15 that we received while we where there. In total, we received 87 EVP/EAP on this investigation. The ship is very loud in most areas making it difficult to get great quality EVP/EAP. We hope you enjoy what we received here!
Yeah male voice - this was caught while one of our team members was using the restroom while the audio was running.
shshsh - Caught while leaving bridge
Come back girl
I'm exhausted - Fox Div Berthing
I'm @$@& Freeland or Friedman
Kiss Off
Touch me - 2nd deck berthing by mirror
TJ Make them match or mesh - 2nd deck near shop
Hey there
Go
Scott's experience weird noise
Bang response deck 2
Strange Noise in engine room (Have the staff ever heard this while on board?)
Ghost Box session - This is something that we are experimenting with right now. Take the evidence you get for yourself and make your conclusions. Very interesting!
GB CPO Mess Hall Yeah in response to question
Team OPPS would like to thank the staff of the USS Turner Joy for the opportunity to investigate this historic ship.