For most of us, this is the third time we have investigated Bremerton Community Theater. It is a wonderful facility with great people who run it. They enjoy the spirits there and they like for us to be courteous to them. Fortunately, this is our investigation style. We don't try to stir things up by antagonizing. At this investigation, we are trying to let the spirits know of the changes that are about to occur. Some of which was already started. BCT is building on a new addition of a second theater on the south side of the building. The rest of the building is to stay the same. However, to prepare for this change they are starting to remove props and other stage items in preparation. We used 8 DVR cameras, multiple audio recorders, two camcorders and full spectrum camera. Enjoy the evidence we received. This was a much quieter investigation than our previous two.
PHOTOGRAPHIC EVIDENCE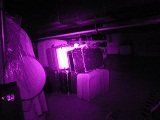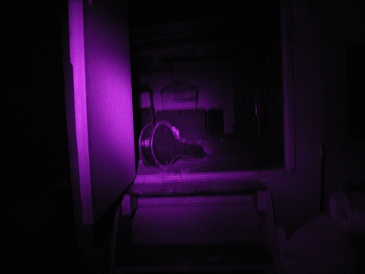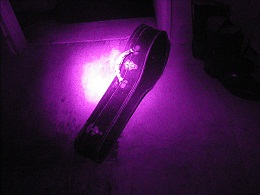 What are we seeing here?
During our investigation we were asking if there was anything that they would like us to keep in the prop room they needed to let us know. About a minute after we asked this the violin case, as you see in the picture to the left in the original position on the bottom left of the screen, was moved to the middle of the floor right in front of the door as you see in the next two pictures. Take a listen to the audio of the interaction. Personal Experience! At the beginning of the recording you will hear the thump of the case being moved. At first we didn't know what had happened or where until we seen the results.
AUDIO EVIDENCE EVP/EAP's
Which - This recording Michelle asks for the spirits to tell us their name. Maybe the response means there was more than one present!
I'm up here - This one, Mary asks the spirit to make a noise next to her to let her know that they are there. You hear the response in the middle of the clip.
Enjoy - This one you hear the EVP/EAP at the end of the clip, listen closely for the Enjoy!
We got you looking - This clip is heard when Mary and others were trying on the prop hats in the prop room. I guess the spirits were trying to give them a hard time and caught them looking at the props.
Play it safe - This is wasn't we heard, but someone speaking in another language. There was an opera group practicing just prior to our investigation. None of us speak the language, so we do not know what they are saying. If you do, let us know.