We are currently working on our new web page called teamopps.com. Stay tuned for more, when the page is up we will place the link here.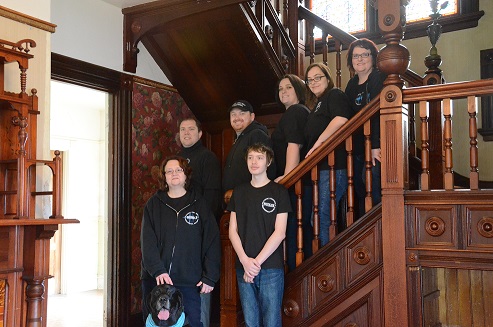 Members from Left to Right
Bottom Row: Eulalie; Middle Row: Mary, Gabe; Last Row: Scott, Pete, Tambi, Andrea & Michelle
Missing Members: Mike & Ta'Mara
Olympic Peninsula Paranormal Society is a professional investigation team in the realm of the paranormal. We use the scientific method of evidence gathering using audio, photo and video to find evidence of haunting or explanation for what is going bump in the night. As a team, we have done many investigations in and around the Olympic/Kitsap Peninsula in the great northwest region of Washington State. We charge no fees for our services and do this as a hobby for our own personal quest to gathering great evidence of the paranormal. We will also be offering some guided ghost investigations in the future to help share the knowledge that we have learned. We do not participate in séances or partake in the use of Ouija boards. We believe that these bring entities into the location that are not attached to events there and may even bring in negative entities. We employ a great arsenal of equipment including high quality audio recorders, DVR recording systems, full spectrum camera, hand held camera and camcorders.
Members of our team actively support the McReavy House Restoration Project and the town of Port Gamble. We have also enlisted to volunteer for Bremerton Community Theater. Supporting our community is important to us. If you wish to support these organizations as well please contact us at opps@olympicpeninsulaparanormalsociety.com.
Check out our Mary Bethune PA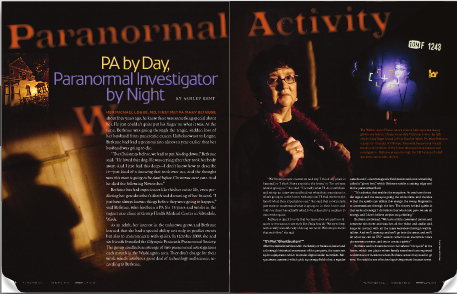 in the AAPA Journal for Physicians Assistant. She was profiled for the month of October and they profiled our team as well.
UPCOMING EVENTS:
A&E My Ghost Story
Episodes 51 and 63 coming to HULU soon!
Where else to find us?

New Additions
COMING SOON
Posted Evidence
New Locations Investigated
Montana State Prison
More on Port Gamble Conference
Port Gamble Mike's 4 star BBQ
Port Orchard Theater
Private Residences:
Silverdale
Indionola
Bremerton
Starvation Heights Employee's House